Magazine Àgora
---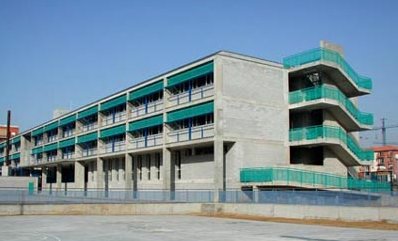 Belén Rueda Almanza writing for the magazine Agora (journal center - INS Torreforta).
The 24 of October, 14 students and 2 teacher, we were in Koszecin, Poland, the Comenius project. This year the theme of the project is to Save Enerfy of the Future Generations. This project has helped schools in Spain, Poland, Italy and Iceland.
The first trip was to Kosecin, Poland. We were all at the 10:20 at the bus station of Tarragona, and from there we went to Barcelona aereoport. At 18:30, to 19:00 we were in aereoport of Katowice. Therw were two Polish teacher, Annia and Celina. Let us welcome.
The first night we did not do much, we had dinner and then we go to our room.
On the 25th we visited Czestochowa. There we saw the Black Madonna and a few stalls where we bought several thing. That day as we meet lots of new friends from Poland. Some Polish people in the afternoon we were invited to take a cocacola in a pizzeria near our hotel. We had a great time and we all know a little more. At night some people come back to the hotel and we played at UNO.
On the 26th we went to visit the institute Koszecin. It was quite large and we played in the gym almost every one game of football. Now we all knew better. In the afternoon we took a walk through the village and we went up to a tower that had an impressive and from high altitude could see the whole town. It is very beautiful. Then we visited another church where there was a cementery. We meet other Polish people, the thay before you were there and the Iceland people. Later, we went up to an observatory, but since the weather was bad we could not see anything much.
On the 27th we went by bus to Krakow, the ancident capital of Poland. We knitted almost 3 hours to arrive in the city, but worthwhile. What is a beautiful and we visited another church and a cave. After we leave free time for lunch, gifts to buy, walk, etc. In Krakow we were all there: Spanish people, Polish people, Italiand people and Iceland people. In return the same Polish have always returned to the hotel to play. Every night we spent it well.
On the 28th we went to a remote silver mining town. When we visited two in two diferent placer. We were told wr had to get on a boat and they were moving a lot! We did not see much but Silver was an experience unforggiven.
The last day everyone had a couple Polish people to go home. So we did it all 15:00 we were all in the house of our hosts and we ate very well. At 17:00 we had all left, Polish and Spanish, Italiands and Icelands people in a farewell party at a pizzeria. The Polish were very friendly and they pay us all. We had a grat time and the party never forget him. Therw was everything: laughter, tears, sorrows, dances, songs, photos, videos... one night unforggiven. Then some went to the hall of the hotel and we keep talking and taking pictures until 22:30, we had to go to the room to pack.
On the 29th we were all ready to go let us know. Some Polish and Italians we had come to say goodbye. Again, there were many sad faces. Nobody wanted to leave. At 11:30 we took the plane of to Barcelona to Katowice at 15:00 approximatly. They eat at the airport 18:00 to 18:30 and we arrived finaly in Tarragona. We were reunited with the family again, we miss, but missed all find new friends we left Poland.
My opinion is that this trip was unforggiven. A unique experience and a very nice new friends and good people. He has been a great opportunity to discuss and improve our level of English. All day we were talking about it and we all understand a great time.
Thank you for the opportunity, that was unforggiven.
Belén Rueda Almanza, 4ºB - 1BAT - A